Products
Cut Christmas Tree List
Premium Balsam 6.5' to 9'
Premium Balsam 5' to 6.5'
Number one Balsam 6.5' to 9'
Number one Balsam 5' to 6.5'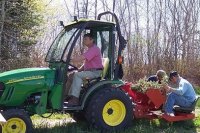 Utility Balsam 6.5' to 9'
Table Top Balsam 3' to 4'
Cut tree height will range from 6.5' to 9' except where noted above. The approximate mix will be seventy percent 7' - 8' and thirty percent 6.5' – 7'.
Transportation can be arranged or provided by buyer.
Prices are F.O.B Houlton Maine and quoted in U.S funds. Depending on size and grade, a full-load is approximately 650 to 950 trees.